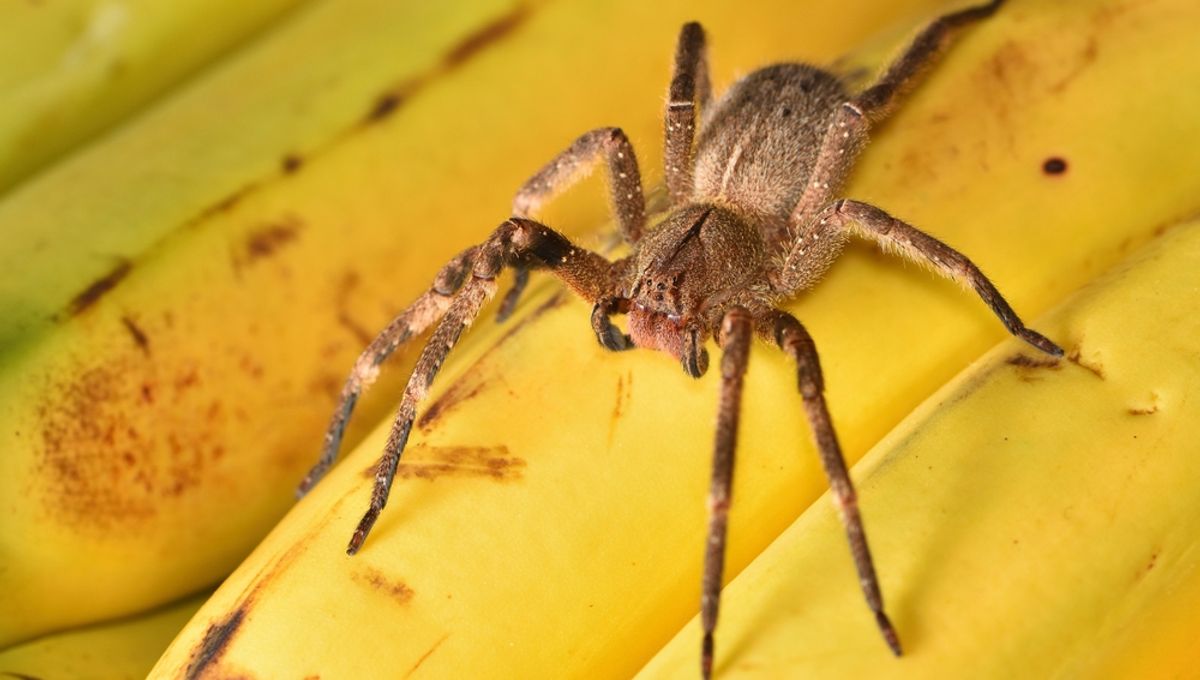 A new alternative to Viagra is being developed with the help of spider venom that's prone to giving guys boners. Scientists in Brazil have been able to create a synthetic version of the vital molecule and are now looking to test it out on men with erectile dysfunction.
The spider in question is Phoneutria nigriventer, sometimes known as the Brazilian wandering spider or the banana spider because they are often found on banana leaves. It packs a nasty bite with venom that can cause an array of symptoms, including extreme pain, tremors, cramps, profuse sweating, weakness, and changes in heart rate. In some cases, the venomous bite can even prove fatal.
Advertisement
If you're male and receive a bite from the spider you may also experience priapism, a condition in which a penis remains erect for hours. While this might sound harmless, it can be a very unpleasant experience, causing intense pain and potentially permanent damage to the penis. 
Researchers have previously identified the bioactive compound responsible for untoward erections, a peptide called BZ371A, and synthesized it in the lab. After completing preliminary tests on mice, scientists at the Federal University of Minas Gerais in Brazil hope to use this compound in phase 2 clinical trials involving men with erectile dysfunction.
The BZ371A compound will be used in a topical treatment that's rubbed into the penis, inducing blood to flow to the area. This causes an erection to arise, without any of the unwanted side effects of the spider venom. 
"Tests, so far, have demonstrated that the compound works with the application of a minimal amount and without any toxicity as it is practically not detected in the bloodstream," Maria Elena de Lima, a Professor at the Federal University of Minas Gerais who has studied the compound for years, said in a statement.
Advertisement
"The big advantage is that the approval of topical medications tends to be much faster, due to the lower possibility of adverse side effects. Furthermore, the drug candidate has already demonstrated that it does not generate any detected side effects, even when injected in high doses."
The researchers believe this work holds some important lessons for the future. Areas of abundant biodiversity like tropical rainforests are brimming with bioactive compounds that have the potential to serve as medicines, just like the venom of the banana spider. The overwhelming majority of these compounds, however, are yet to be identified. Who knows what life-saving medicines are potentially hiding in the depths of the rainforest?
Meanwhile, it's all too clear that humans are disturbing the natural world at an unprecedented rate. If we continue to destroy this untapped resource, we risk losing out on vital medicines. 
"It is research inspired by our biodiversity, which begins with the study of spider venom and is close to generating a possible medicine. This helps demonstrate why our fauna must be preserved: it is an inexhaustible source of bioactive molecules, and we do not know even 1 percent of this potential," de Lima said.
Source Link: Spider Venom That Causes Big Boners Could Be A New Viagra