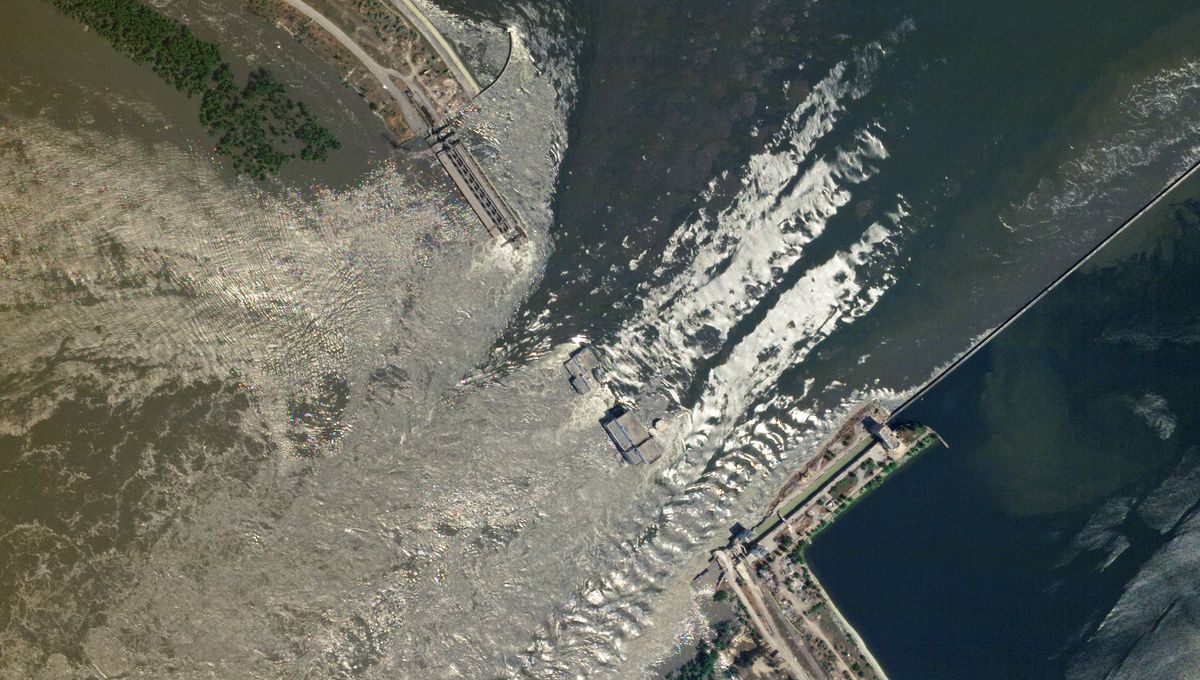 A major damn in Russian-occupied Ukraine collapsed on Tuesday, sending a deluge of water downstream. Along with the huge economic and humanitarian cost, many experts fear it will spell long-term environmental consequences not only for Ukraine but also for neighboring countries.
The incident took place on the morning of June 6 at the Kakhovka dam and hydroelectric power station located on the Dnieper River in southern Ukraine, an area that's fallen under the control of the Russian military. 
Advertisement
"The Kakhovka dam is one of the biggest dams in the world in terms of reservoir capacity, with an enormous reservoir water capacity of approximately 18 billion cubic meters. For comparison, it is 90 times bigger than the largest dam reservoir in the UK," commented Dr Mohammad Heidarzadeh, senior lecturer at the Department of Architecture and Civil Engineering at the University of Bath.
"It is obvious that the failure of this dam will definitely have extensive long-term ecological and environmental negative consequences not only for Ukraine but for neighbouring countries and regions," explained Dr Heidarzadeh.
The collapse released a deluge of water downstream, as seen by the dramatic satellite images that captured the chaos. The fear is that this water is contaminated with debris, pollutants, and hazardous chemicals that could cause irreversible changes to the impacted ecosystems. 
ⓘ IFLScience is not responsible for content shared from external sites.
Advertisement
Since the Kakhovka Reservoir serves as a water source for the largest irrigation system in Ukraine and in Europe, this could have profound effects across the surrounding region.
"The spilled engine oil can harm plants and animals that get in contact with it but proper evaluation can only take place after the water level is dropped and scientists can assess the area," Greenpeace said in a statement. 
Ukrainian President Volodymyr Zelenskyy blamed the collapse on "Russian terrorists", calling it the "largest man-made environmental disaster in Europe in decades". Russia hasn't denied responsibility, instead arguing that the West has an "endless desire to blame Russia for everything." 
United Nations (UN) Secretary-General António Guterres described the dam's destruction as a "monumental humanitarian, economic and ecological catastrophe." At least 16,000 have already lost their homes he said, with many more expected to leave, adding that the UN is having to provide locals with water purification tables and sanitation measures.
Advertisement
There were concerns about the Zaporizhzhia nuclear power station – Europe's largest atomic power plant – which uses reservoir water for cooling. Fortunately, however, experts have said that should not be a concern since it is upstream from the destruction. 
"The Zaporizhzhia Nuclear Power Station is upstream of the Kakhovka dam that has just been blown, and so will not be flooded.  All six reactors at the Zaporizhzhia Nuclear Power plant have been shut down for over 8 months, which means that their requirements for cooling water will be only a tiny fraction of what they needed when they were operating," said Professor Philip Thomas, Visiting Academic Professor at the University of Bristol. 
Source Link: Ukraine's Dam Collapse May Be Europe's Biggest Ecological Disaster In Decades