JWST continues to deliver on the promise of incredible images. The latest one is of the protostellar outflows of Herbig-Haro 211. Said like that, even with the image above this text, might not tell you much. So let us put it another way: you are looking at what an extremely young and tiny star throws out into the universe. Big jets of material that are hitting other cosmic stuff, creating a turbulent interaction that shines in this beautiful composition.
Calling it a star is technically wrong. The object is a protostar. It has not yet reached the internal conditions of being a star. Namely, its core is not hot enough for nuclear fusion. The object is expected to be a few tens of thousands of years old – truly a baby in cosmic time. It is also small: it has a mass that is just 8 percent of the Sun.
Advertisement
But it is growing and is expected to reach a size roughly like our Sun when it has finished gobbling up material. That material is what obscures the presence of the protostar from us, and it is also responsible for the beautiful pair of jets being emitted. The mechanism that produces the jets is not exactly understood.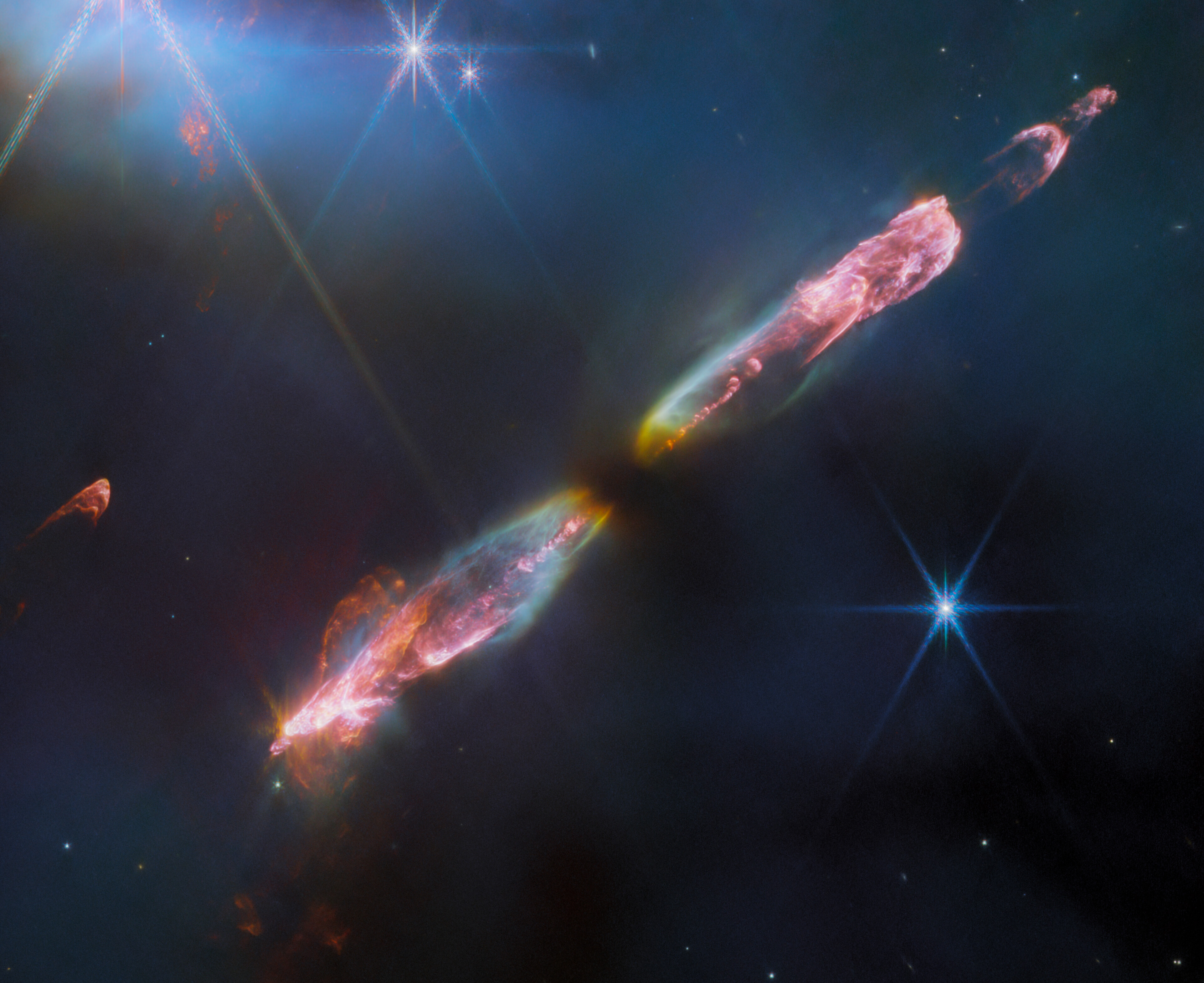 The full view of Herbig-Haro 211.
Image Credit: ESA/Webb, NASA, CSA, T. Ray (Dublin Institute for Advanced Studies)
Researchers suspect that it is an interaction between some of the close material around the forming star and the protostar magnetic field. So part of it is ejected around the protostar axis of rotation, in two thin jets of ionized gas shooting from their poles. Hence the name Polar Jets. They might spread out a little bit after they are released but interactions with the interstellar material keep them quite tight.
Some of those interactions are shown in gorgeous detail by JWST. The bow-shocks between the various substances such as molecular hydrogen, carbon monoxide, and silicon monoxide literally shine in infrared where the telescope can observe them. JWST has a resolution between five and 10 times higher than any previous image of Herbig-Haro 211, which revealed something important about the system.
There are symmetric wobbles happening on both jets suggesting that the protostar might be a pair, creating the peculiar effect. Researchers were also able to track the speed at which the innermost outflow is moving, placing it between 80 to 100 kilometers (50 to 60 miles) per second. The shockwave velocity though is smaller, so the interactions are not breaking apart the molecules.
Advertisement
Both JWST and Hubble have looked at several of these fascinating young systems to better understand how stars come to be. Herbig-Haro 211 is one of the closest to Earth, being just 1,000 light-years away.
More insights into this very young system are published in the journal Nature.
Source Link: What Are You Actually Looking At In This Glorious JWST Image?